La Posada de Moisés is the most recent foundation Soul Dancers has taken under our wing located in Medellín, Colombia. As we've shared, you know this foundation assists 41 children in vulnerable situations with the necessities of a happy life. Today we would like to introduce you to some of these amazing little souls here on our blog.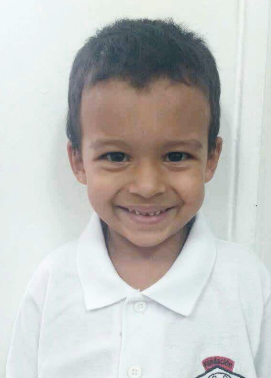 First, meet Ismael Pabón Muñoz and Maximiliano Pabón Muñóz. Ismael is three years-old and Maximiliano is five years-old, and they joined the foundation on August 22, 2016. Unfortunately these two boys have been displaced twice, from San Luis and Belén La Capilla. Their father is part of the armed conflict and has dedicated his life with a mission to persecute the mother of his children, thus providing an extremely difficult situation for their mother to raise them. Sadly their mother lives almost hidden and wanted to seek help at the Mayor's Office of Medellín for protection for herself and her children, leading her to La Posada de Moisés. Isamel is very quiet, intelligent, speaks very well and at the moment is a very happy child. Maximilliano is very bubbly and playful. Both boys have adapted well to their new lives in the foundation, and look forward to the dance lessons and English lessons they receive each week.
Briyit Sofia Calderón Morales is a beautiful two year-old girl who joined the foundation on March 11th of this year with her two siblings. The parents of these children are street dwellers that got caught up in some bad habits and abandoned them at a young age. Briyit is a very extroverted girl, who likes to chat with anyone she meets – she has adapted very well to life within the foundation and gets along famously with the other children.
Nikoll Pacheco Pereira is three years-old and joined La Posada de Moisés on January 11, 2017. With five siblings, she is the youngest of six children. Unlike the other children we introduced, her mother is also at the foundation – working in the kitchen. Up until Nikoll joined the foundation, her older siblings watched her while her mother worked. However, this was not the life she wanted for her daughter as she was not cared for in a proper way. Nikoll's mother decided to look for a job where she could keep an eye on her daughter and take care of her. Nikoll is a very smart girl, however, she is very stressed and eating habits are poor due to the difficulty she's had transitioning into the foundation. Monday afternoons during dance lessons are the happiest time for Nikoll where she forgets all her troubles and is able to be a little girl again.
Jincela Rueda Sánchez is seven years of age and joined the foundation in February 2017. The youngest of six children, her situation is very difficult. Up until recently she lived with her mother on the shore of the Cauca River. One day during a flood on the river they lost their house, and afterwards their mother struggled to find footing. Sadly, Jincela's mother packed her clothes in a sack and stopped her on the shore of the Cauca River, abandoning her with no place to go. Fortunately she was able to reunite with her brother at the foundation and has adapted easier because of this. Jincela is quiet and withdrawn, and unfortunately her face reflects a very sad girl.
Our mission at Soul Dancers is to nourish, empower, and inspire the less fortunate through the gift of dance. We want these children to not only feel happiness through our programs but an increase of self-esteem, self-worth and motivation to keep a positive outlook on life despite their struggles. These children are kind and resilient and they all deserve love. Isn't that what we all need?
Join The Movement…